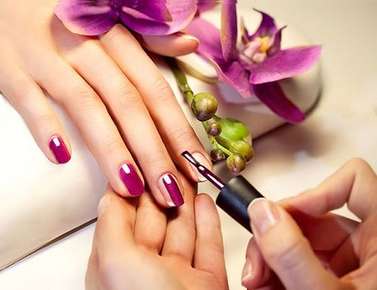 Taking good care of your nails adds polish to your overall look. Our salon prides itself on beautiful, long-lasting nail services. From everyday grooming to special nail art for proms and weddings, we offer the perfect nail service for every occasion. Our experienced nail technicians are excited to serve you.
Express Manicure and Pedicure
This basic nail service includes a quick shape and polish, getting you in, out and looking good in a hurry.
Spa Manicure and Pedicure
We start by soaking your nails, and then we scrub your hands and feet to remove calluses. After we shape your nails and soften and trim cuticles, we add polish, in your chosen color.
Gel-Polish Manicure or Pedicure
Our gel polishes strengthen and protect your nails, will not smudge and dry immediately.
French Manicure
This style dates back 200 years, but looks just as fresh in the 21st Century. Capture the simple elegance of French women with natural-looking nails accentuated by white tips.
Acrylic Full Set
We will sculpt your artificial nails to look natural or glamorous, depending on your lifestyle. We affix acrylic extensions to your nail tips, providing the length and shape of your choice. We then add polish in your chosen color.
Gel Nails
Similar to acrylic nails, gel nails more closely resemble a natural nail. Gels are more flexible than acrylics as well.
Nail Fill
Schedule appointments every three to four weeks to keep your artificial nails looking brand new. We will fill and rebalance any cracks or damage.
Buff and Polish Change
Think of this treatment option as the super-express manicure, which yields refined yet natural-looking results.
Paraffin Foot or Hand Treatment
You need smooth, pretty hands and feet to go with that set of perfect nails. Treat yourself to a luxurious paraffin soak to soften skin.
Nail Art
We offer a variety of nail art designs to match every personality. We offer polka dots for the whimsical, glitter for glam girls, animal prints for the wild at heart and much more.
Call us today to schedule an appointment, for your most beautiful nails ever.