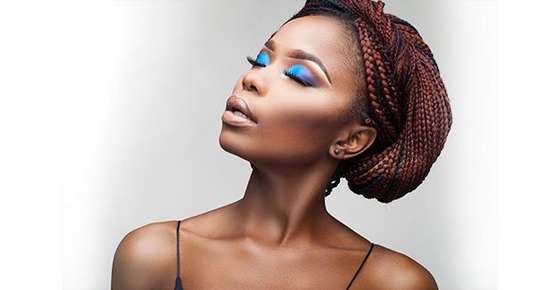 Seems like new braiding trends pop up every day. But these styles have proven to have enduring popularity. If you're searching for a new-to-you look for your Afro hair, try one of these braids or twists.
Box braids
Box braids were popular in the '90s and are still a good look. These braids get their name from the boxy shape of the pattern along each plait. You can get them thick or thin, and any length. Most women like their stylist to add synthetic or natural hair for more volume. Box braids are very versatile for updos or partial updos.
Micro braids
Micro braids can be very pretty and ornate. Your stylist can cover your entire head with micro braids, or just do them on part of your scalp. Expect to spend hours in the salon, as this is time-consuming work. It's also hard on your hair and can cause breakage. Not the best choice for women with brittle or dry hair.
Bob braids
Bob braids take their name from a hairstyle: the classic bob. You can use different types of braids, but they all entail that classic bob style, with hair cut to the nape of the neck in the back, and tapering down to just below your chin in front. Go semi-traditional, or add something fun like purple synthetic hair for a new spin on the classic bob.
Kinky twists
Kinky twists look a bit like box braids, but are two-section twists rather than three-section braids. They put less tension on your scalp than braided styles. One fun look is to use synthetic hair that's a different color from your own for a two-tone effect.
Senegalese twists
Also known as rope twists, Senegalese twists are a popular protective style for Afro hair. Your stylist wraps synthetic hair around your natural hair, using a two-strand method to twist from root to end. You can use Senegalese twists to protect your hair from over-styling, especially heat styling, while you let your natural hair grow out.
Yarn twists
Yarn twists are fun, unusual, and great for cold weather, as they function a bit like a built-in hat and scarf. Choose from natural or something bright, like red or chartreuse. As the name suggests, your stylist twists lengths of yarn with your natural hair. This is a good protective style.
Dreadlocks
As seen on Rastafarians, Hindu holy people, and even ancient Egyptians, dreads are matted ropes of hair that result from either neglect or careful cultivation. The formation of evenly sized dreadlocks take planning and maintenance and mature, tight dreads can take months to achieve.
Faux locs
Faux locs often resemble dreadlocks, but use synthetic hair, yarn or real human hair wrapped into your own for extra length. This is a permanent style, so is only for the committed.
Cornrows
Cornrows are another time-consuming style to get, but will last a long time once all the braids are in place. Options range from simple, straight braids to zig zags, geometric shapes and even symbols or words. Pick an experienced stylist for this memorable look.
We love to braid
Not sure where to get your dream braids? Call us today. We love to help you experiment with new braid styles.